DVD 2020 Pack - Front and Finish, Retrieve and Drop
$ 125.00
View product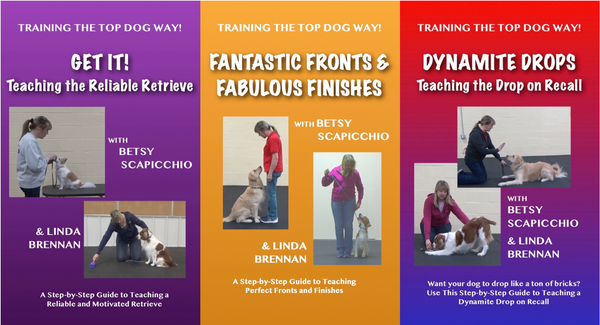 About Us
Barking Dog Video LLC allows Linda Brennan to combine her interests in videography and dog training. Linda collaborates with Betsy Scapicchio on the Train the TOP DOG Way series of videos on competition obedience, which now includes eight titles, with more on the way.  If you have ideas or suggestions for future video projects or if you would be interested in working with Barking Dog Video on your own project, please contact Linda at linda@barkingdogvideo.com. 
Linda Brennan has been a professional dog trainer for over thirty years.  She competes with her own dogs in obedience, agility, rally, conformation, scent work, hunting and herding.  She currently instructs in competition obedience including classes at Betsy Scapicchio's Top Dog Obedience School (www.topdogobedience.com) and private lessons.  Linda's own dogs and her students have reached the highest levels in obedience.  She has also competed at the National level in agility.  The unique experience she brings to video production as a top trainer, competitor and student allows her to capture the best instruction on video in a clear, organized, and easy-to-use format.
Contact Barking Dog Video LLC at:
Barking Dog Video LLC
P.O. Box 132
Columbia, NJ , 07832-0132

Email: linda@barkingdogvideo.com
Barking Dog Video guarantees the quality of our DVDs.  If your DVD does not function properly, please notify us and we will replace it promptly!
| | | |
| --- | --- | --- |
| | | |
| OTCH19 Heart UDX12 OGM RE JH | GCHB Reese UD RE OA OAJ OF | CH Spell UDX2 OM3 RAE2 PT MX MJB |
| | | |
|  Lita TKN | OTCH10 Spy UDX5 RAE HSas OA OAJ  | CH MACH3 Maddie UDX RAE JH |
| | | |
| Kate UD | CH Oz UD RAE AX AXJ | CH Ruby UD |
| | | |
| | Kelsey CDX | |